Student Scholarships
The Starkville Foundation for Public Education awards several one-time scholarships to exceptional Starkville High School seniors. All awards are for seniors who wish to pursue continuing education at a four-year college/university, community college, or vocational/technical training school unless otherwise noted.
Starkville High School seniors may apply for one SFPE scholarship. The application deadline is Tuesday, April 25, 2017.  Requirements and details of each scholarship can be found on the scholarship application.
To complete the application, please click the link below to open it. Type in the required information. Then print the application to get counselor verification and signatures. Follow the CHECKLIST on the application to submit it along with the required documents.
SPFE 2017 Scholarship Application
Congratulations to our 2016 scholarship winners!
Thomas Austin Brown (Hannah Pote "Grit" Award and Scholarship-Male) $500
Kelly Coble (Hannah Pote "Grit" Award and Scholarship-Female) $500
Cameron Johnston (Coach Dave Jones Sportsmanship Scholarship) $1000
Ashley Fisher (Carrie Hawkins Leadership Scholarship) $500
Elizabeth Jones (Music Legacy Scholarship) $1000
Tykea Mickens (Spirit of the Foundation Scholarship) $500
Victor "Jamie" Forrester (Paul Scales Career Advancement Scholarship) $750
Congratulations to our 2015 scholarship winners!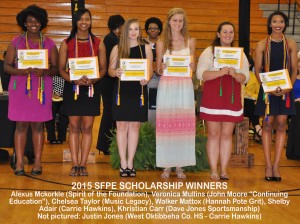 Spirit of the Foundation Scholarship ($500) – Alexus Mckorkle
John Moore "Continuing Education" Scholarship ($750) – Veronica Mullins
Music Legacy Scholarship ($1,000) – Chelsea Taylor
Hannah Pote "Grit" Award & Scholarship ($1,000) – Walker Mattox
Carrie Hawkins Leadership Scholarship ($500) – Shelby Adair (Starkville High School)
Dave Jones Sportsmanship Scholarship ($1,000) – Khristian Carr
(Not pictured above):
Carrie Hawkins Leadership Scholarship ($500) – Justin Jones (West Oktibbeha Co. High School)
Paul Scales Career Advancement Scholarship ($750) – Tyler Fortenberry